The following post is an article written by Salvatore J. Minicozzi CCEP, DC, Brent S. Russell MS, DC, Kathryn J. Ray DC, Alessandria Y. Struebing MSPH, andEdward F. Owens Jr. MS, DC which was published by the Journal of Chiropractic Medicine.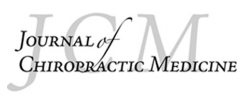 Objective: The aim of this study was to look for differences between patients with an increased pain response as compared with those with a decreased pain response.
Methods: Data were collected from consecutive new patients with lumbar or lumbopelvic pain in a chiropractic clinic. A pelvic tilt exercise was included in the initial examination, and pain response was noted. Analysis was made of pain and disability severity, as well as symptom location, chronicity, and other characteristics, before and after a course of chiropractic care.
Results: Patients with an increased pain response to pelvic tilt (n = 12) had higher levels of pain and disability at baseline than patients without (n = 34). There were no between-group differences in other aspects of their complaints; in age, sex, or body mass; or in the types of care they received (eg, manipulation, stretching, exercise instruction). On the average, both groups of patients showed improvement with chiropractic care, and there was no detectable difference in improvement between groups.
Conclusions: This study found that patients experiencing pain in response to a pelvic tilt
maneuver may have a poorer precare status than patients with a decreased pain response.
The complete article can be found by clicking here.


For Your Health,

Dr. Salvatore Minicozzi