Our Team Coming Together to Provide
True Whole Health Care For Your Family.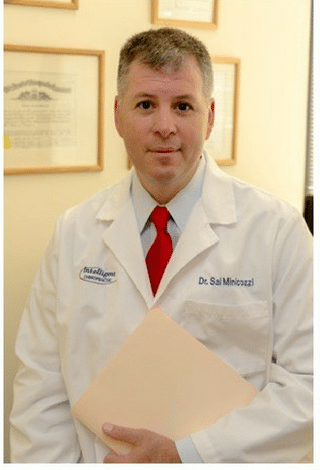 Dr. Salvatore J. Minicozzi
Chiropractor
Dr. Minicozzi is originally from New Jersey. He completed his undergraduate work at William Paterson College, receiving his Bachelor's of Science Degree in Exercise Physiology. He earned his Doctor of Chiropractic degree from Life Chiropractic College in 1994. His specialties and certifications include Chiropractic Extremity Management and Active Isolated Stretching. He has instructed thousands of students to become quality Doctors of Chiropractic and serve on Life University's Mentorship Program.
Dr. Minicozzi concurrently serves on the Delphi Committee, assembled by the World Health Organization. He is responsible for designing exercise programs for use around the world. He is also the lead investigator on a cutting-edge research project designed to understand Low Back Pain better. He has lectured internationally on the subject of health and health strategies. Dr. Minicozzi has also published papers on his chiropractic observations, such as this study on Low Back Pain Response to Pelvic Tilt Position.
Personally, Dr. Minicozzi serves as an Advisory Board Member of the Post 911 Foundation. This invitation came about from his work at Ground Zero.
Locally, he has raised over $1,713,603.00 worth of food for the Atlanta Community Food Bank; and nationally raised $150,000.00 for the Intrepid Fallen Heroes Fund.